Booking a wild pig hunting guide can be your best decision for a successful hunt! Since wild pig hunting can be tricky, the knowledge and experience from a professional guide helps both novice and veteran hunters. When you book your California wild pig hunting guide through Central Coast Outfitters, you'll be heading to the Central Coast of California. The habitat in this area is brush and can be steep, all the more reason to hire a guide that knows the territory!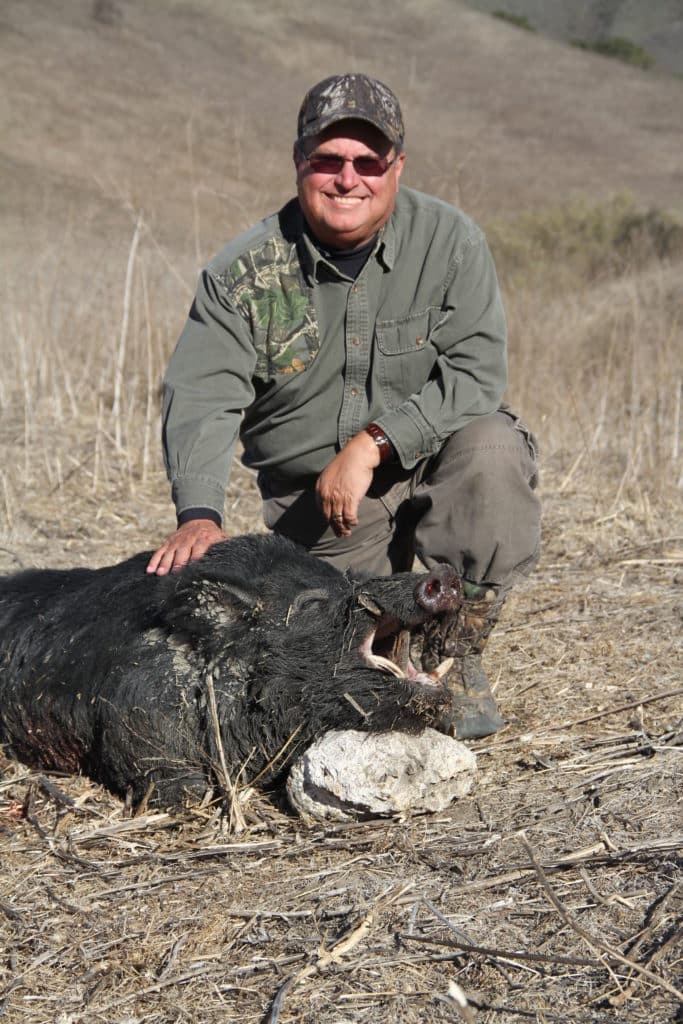 Book your California Wild Pig Hunting Guide today. 
The Central Coast of California is among some of the best places in the U.S that provides wild pig hunting opportunities. The best wild pig hunting guide will ensure that all  hunters have an opportunity of a lifetime, no matter their level of experience. You can check wild pig hunting on the California Fish and Wildlife website
Here is what you should know before you go wild pig hunting:
Benefits of using the services of a hunting guide vs. DIY
Wild pig hunting is nothing short of special. It can take years to perfect the skills, and that's just part of the fun. But at times it can be overwhelming to decide whether to go for a guided hunt or do it yourself (DIY). Each approach has its pros and cons.
If you ask any experienced hunter, they will tell you to choose the services of a professional – and for good reasons. Some of the benefits of using a guide include:
You have a higher chance of a successful hunt

They assist with logistics

Provide transportation to and from the camp
While going the DIY route will make you learn the hard way, it's more difficult than using other options.
California Wild Pig Hunting Guide Experts
Safety is a priority
When you use a professional hunting guide, your safety is paramount. Apart from providing the right hunting gear, your guide will make sure of many safety concerns. Such as, the weapons will not be chambered while close to vehicles.
Guide understands hunting methods
In the semi-open country of the central coast of California, the hunting guide will show you an ideal spot and stalk tactics. And because timing is key when hunting wild pigs, you should move during mid-day or late evening. In most cases, traveling happens during the first hours of the morning. This is the best time to catch the pigs as you watch them at a close range.
Wild pigs generally have a set daily routine, with which your guide will be familiar.  Also, during the dry season, they migrate to areas with multiple water sources. This is something you can learn from a hunting guide.
That's not all, once you spot the pig, the guide will help you decide upon the best shot. For instance, if the pigs are a few hundred yards, you might let them go, or your chase could be fruitless. Similarly, if you hear a wild pig coming towards you, you should ascertain where it's intent. Usually, when you see a fast-traveling pig, it's either looking for water or searching for food.
Essential tips when hunting wild pigs
When a wild pig smells you, most likely your hunt will yield no results. Generally, you can approach a wild pig aggressively until it's just a few hundred yards. Still, if you find a group of pigs within a few hundred yards, you should create some confusion to scatter them.
Hunting wild pigs is one of the most exciting ways to hunt.
Some of the tricks you can use in include:
Hunting on early mornings and evenings

Use a binoculars

Listen for grunts and squeals

Focus on their bedding areas

Look for worn trails that show recent use
If you want to have an unforgettable experience, you'll want to work with a guide who will meet all your hunting needs. Central Coast Outfitters offer you their best!
When you book your California Wild Pig Hunting trip you should expect a successful, memorable hunting adventure. 
Check Out Our Other California Hunting Trips