Book Your Next Hunt With Us
Central Coast Outfitters has been guiding hunts along the California coast since 1995. We offer hunts for Tule Elk, Roosevelt Elk, Black Tail Deer, Black Bear, Wild Turkey, , Gray Fox, Wild Boar, Quail and Dove. Central Coast Outfitters also offers hunts on the South Island of New Zealand. We offer hunts for Red Stag, Tahr, Chamois, Fallow Deer, Arapawa Ram, Hill Ram, Wapiti, Wild Boar and Alpine Goat.
Our Hunts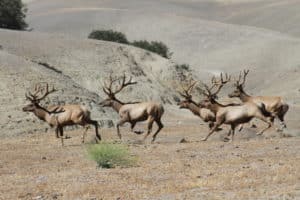 Of all the great Spanish Ranchos that help make up California, there remains one that is relatively intact in Southern Monterey County. East of King City, 12 miles off Highway 101, hidden by the Gabilan Range, lays the Rancho San Lorenzo Peachtree. This grand old Rancho is one of the most beautiful and scenic ranches in the state. The beauty of this ranch in spring is unsurpassed. Wild flowers mixed with the green hillsides, along with the many lakes and ponds on this one of a kind ranch is a sight to behold. Add a spring turkey hunt to this and it will be a hunt you will never forget.
California Indians made this hidden valley a resting place during their annual migration to the Pacific Ocean. The Peachtree Ranch is approximately 50,000 acres. The Indians found plentiful numbers of game for hunting. Here were quantities of stone to form arrow heads for hunting.
Spanish Ranchos eventually gave way to the influence of the U. S. Dollar. The Peachtree Ranch became headquarters for cattle barons Miller and Lux. It was Miller and Lux who saved the Tule Elk from total extinction. You now have the opportunity to hunt these magnificent animals on a ranch where the very people that saved the elk, ran cattle.
During the late 1920's the Peachtree Ranch became an escape for many famous cowboys of that era, like Tom Mix, Gene Autry and Will Rogers just to name a few.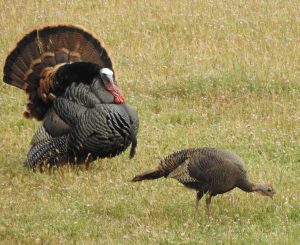 Central Coast Outfitters offers spring turkey hunts in San Luis Obispo and Southern Monterey Counties. We have four private ranches that we hunt, two in San Luis Obispo County and two in Southern Monterey County. The season starts in the last weekend of March and ends the first weekend in May. The Central Coast of California is absolutely beautiful this time of year. These ranches are full of big toms in the spring. There is nothing quite like working a big old tom into range.
Mendocino County California is the diamond location of all Black Tail Deer Hunts. On this hunt one will see Black Tail Deer that dreams are made of, you will also see Black Bear, Bald Eagles, Golden Eagles, Otters, Salmon and Steelhead swimming up river to spawn. In the evening after the day's hunt you can sit out on the porch of the cabin relax and listen to the river flowing below. Sometimes you can hear the Salmon and Steelhead beating their way up the river. In the morning it is not uncommon to see bear and deer right from the cabin before you've had a chance to have that first cup of coffee. This hunt offers the hunter a chance at a record book black tail on the same hunt. The beauty of the Mendocino Mountains this time of year is absolutely marvelous from spectacular sunsets to the leaves turning color. We have taken bucks that score from 135 SCI to 175 SCI. Tags are very limited for these hunts so you will need to book early and you will also need to purchase your B-Zone tag early.
Our deer hunts are conducted in the southern portion of the A-Zone in Santa Barbara County. We are running a 100% success rate on this deer hunt. On this ranch we also conduct hunts for wild boar, s, quail, and dove. Pig hunts are offered year round. Hunting wild boar is a great hunt for a novice or a veteran hunter. All hunts with the exception of deer hunts have a two person minimum. Quail season starts in late October and ends in late January. All hunters are required to use non lead ammunition on this 25,000 acre ranch.
Bird Hunts at the RS Bar Guest Lodge
Our planted bird hunts are conducted on a beautiful ranch is San Benito County. On this hunt you will stay right on the ranch in a wonderful lodge where you can see the San Benito River ambling along from the lodge. This lodge has a huge living room with a fireplace, which is a great place to come in and relax after the days hunt. All suites have their own bathrooms; some suites have their own fireplace. In the afternoon and evening, you can sit out on the porch and watch our cooks Bar-B-Q dinner right on the porch of this wonderful lodge. This hunt is conducted on one of the most premier hunting properties on the Central Coast of California. We also have a sporting clays and trap range along with a rifle range that goes out to 1,000 yards with silhouette targets.