California Hunting Guide – Book Your Trip Today
Have the experience of a lifetime and come home with your tag filled. We've been helping people have amazing California hunting trips for over 30 years – as well as out of our New Zealand hunting lodge.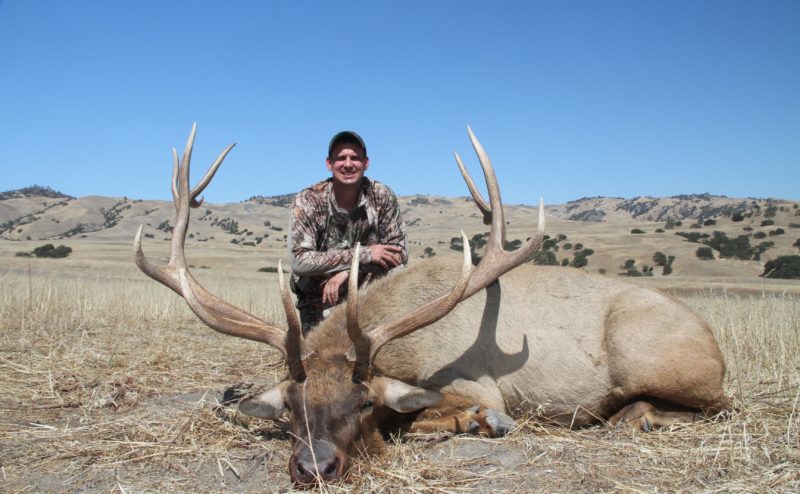 We'll provide you a cozy place to stay, delicious and hearty home-cooked meals, and guidance on where to go, what to do, and how to do it – all based upon creating the hunting experience of your dreams.
Whether you're a bow or rifle hunting enthusiast, new to hunting or experienced, or will be hunting elk, turkey, or deer, our guides will do everything they can to make your trip one to remember.
About Central Coast Outfitters
Central Coast Outfitters has been guiding hunts along the California coast since 1995. We offer hunts for Tule Elk, Roosevelt Elk, Black Tail Deer, Black Bear, Wild Turkey, Wild Boar, Quail and Dove.
It gives me great pleasure to recommend and endorse Central Coast Outfitters for Rio turkey hunting. I was there April 2019, hunting as a client. They have many properties with outstanding habitat and a huge population of turkeys from Jake's to trophy size Toms. Central Coast Outfitters does a outstanding job managing their turkey flocks for a fun and high quality hunt. They only take a set quota of hunters and don't over-hunt any of their privately owned leases. I was there for a 3 day trip and was amazed being there after the season had been opened for 3 weeks at how well the turkeys responded to the calls. There were many high quality Toms to choose from. Central Coast Outfitters hospitality was outstanding! I was impressed with the personal attention that they give to their clients. I had an add on bonus in the early evening hours after shooting time for turkeys, I was able to go hog hunting. I was able to harvest a wonderful meat hog.
If you are interested in a high quality Rio Turkey hunt, I would recommend calling Central Coast Outfitters.
– John